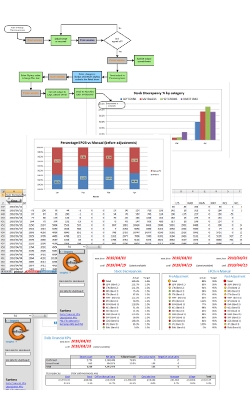 Thoughtful analysis, content and presentation can make all the difference to how clearly your management team understands their company.

With years of experience presenting data and analysis to all levels within an organisation, you can be assured that the message will get across loud and clear.

Massoss always tries to stay objective within a company, allowing it to give a clear assessment of where you are, where you need to go and how you can get there.

We have experience working with balanced business scorecards, KPIs and business planning. So no matter how you want to look at your business we can deliver.

Full documentation is created for any of the solutions provided by Massoss. This will include process flow diagrams and any other notes to ensure that you understand how to get the best from our work. If you do have a problem that you can't work out, don't worry, just contact us and in most cases we can give you the necessary guidance straight away.

If you would just like to have your team trained to a higher standard of Excel spreadsheet work, we can help with that too. Using best practice methodologies when building spreadsheet models, can save a great deal of wasted effort later on. Friendly, personal training, either one to one or one to many can be arranged easily through Massoss.